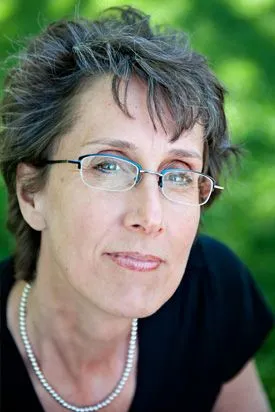 Dr. Anita Knopp received her Doctorate in Chiropractic from Palmer College, Davenport, Iowa in 1985. Since then, Dr. Anita has helped thousands of patients achieve long-term health. Working together, she and her patients have reduced pain and restored balance, vitality and productivity to their lives.

In addition to her clinical work, Dr. Anita participated in the development of F.R.A.S. (Force Recording and Analysis System) and has served on many chiropractic and wellness boards. In 2006, her peers chose her to be Maine's "Chiropractor of the Year." and in 2009, she received the President's Award from the Maine Chiropractic Association,
Dr. Anita Knopp lives in Brunswick and has three grown sons.
Education:
Palmer College of Chiropractic, Davenport, Iowa
Doctorate of Chiropractic, 1985
Marycrest College, Davenport, Iowa - 1981
Licensures and Certifications:
State License - Maine
Chiropractic Wellness Certificate (currently enrolled)
Independent Chiropractic Examiners Certificate
Video Fluoroscopy
Awards:
President's Award, Federation of Chiropractic Licensing Boards, 2003
Chiropractor of the Year, Maine Chiropractic Association, 2006
President's Award, Maine Chiropractic Association, 1992, 1999, 2000, & 2009
Professional Service, Memberships and Associations:
Current Board Member, Maine Health Data Organization
Current Director, Maine Chiropractic Association
Current Member of American Chiropractic Association
Past chair of the Maine Board of Chiropractic Examiners
Past Proctor for Chiropractic National Boards
Past Peer Review Chair, Maine Chiropractic Association
Past Coordinator, Oasis Chiropractic Coordinator
Current Member of the Brunswick Downtown Association
Current Member of Southern Midcoast Maine Chamber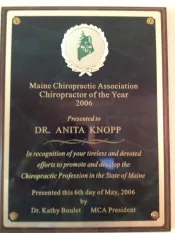 Anita Knopp uses chiropractic care to improve the health and wellness in all areas of patient's lives, whether they are having problems with back pain or neck pain, or just want to start feeling better when they wake up in the morning. Dr. Knopp takes a "whole person" approach in chiropractic care, which means looking for the underlying causes of disease, discomfort, and pain, as opposed to just treating the symptoms. Many seemingly unrelated symptoms often arise from imbalances in the spinal column, and Dr. Knopp will be able to determine the root of the pain and create a personalized chiropractic and wellness plan to suit each patient's individual needs. Under the supervision and care of our caring and skilled chiropractor, patients report higher functioning in all areas of their lives.
If you have any questions about our Brunswick chiropractor, or would like to learn more about chiropractic care at Wellness & Chiropractic Care, please call us at (207) 729-8656 today!